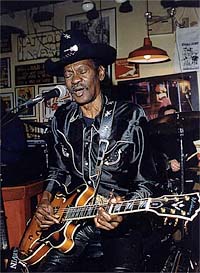 Blues legend Gatemouth Brown passed away Saturday due to cancer, he was 81.
From the Houston Chronicle
Although his career first took off in the 1940s with Okie Dokie Stomp and Ain't That Dandy , Brown bristled when he was labeled a bluesman.

In the second half of his career, he became known as a musical jack-of-all-trades who played a half-dozen instruments and culled from jazz, country, Texas blues, and the zydeco and Cajun music of his native Louisiana.

By the end of his career, Brown had more than 30 recordings and won a Grammy award in 1982.

"I'm so unorthodox, a lot of people can't handle it," Brown said in a 2001 interview.
Clarence Gatemouth Brown